Troxler 3440 Surface Moisture-Density Gauge
Model 3440 brochure & specifications »
The Model 3440 gives you the features you need for compaction control, but its enhanced capabilities make it a step above our basic Model 3430.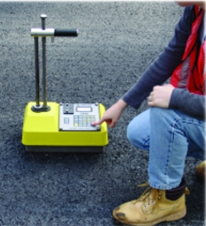 The Model 3440 is used to measure the density of asphalt, soil, aggregate or concrete and the moisture of soil or aggregate. Density can be measured in either the backscatter or direct transmission mode and moisture is measured in the backscatter mode. The backscatter mode is ideal for concrete and hot asphalt, while direct transmission is the choice for 50 - 300 mm (2 - 12 inch) lifts of soil and aggregates. Test results in as little as 1 minute allow additional compaction to be applied immediately if necessary. Email us for more information and pricing.
The Model 3440 and all other gauges in the 3400 series have replaced conventional density test methods and have become the industry standard. It also meets ASTM Standard Test Methods D-2922, D-3017, D-2950, C-1040 and AASHTO T-310.
Features & Benefits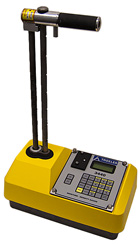 The Model 3440 gives you the same basic features as the Model 3430, but with these enhanced capabilities:
Stores up to 450 tests
Data stored in user selectable projects
Identification of stored test results by station number and distance left or right of centerline
Automatic depth indication
Multiple offsets available to adjust to virtually any field condition
Fifty years of Troxler experience and an extended 18-month warranty give you the confidence you need in your field testing equipment
Based in Perth, Western Australia - Complete Calibration are the distributors in Australia for Troxler Electronic Laboratories, USA. Troxler are recognized worldwide as the industry standard for Nuclear Moisture/Density Gauges.