Services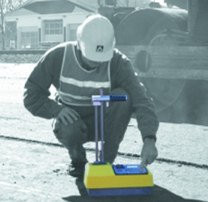 Complete Calibration Service, Repair, Calibrate and provide Spare Parts for all makes and models of NDM soil moisture / density nuclear gauges - including Troxler, Instrotek, Humboldt and Campbell Pacific. In short, if you need anything for your gauge we can help you.
Contact Us for a quote.
Complete Calibration service and sell Troxler gauges. We are an Authorised Service Centre in Australia for Troxler soil moisture / density nuclear gauges. Genuine spare parts for Troxler models.
We calibrate to Australian and Main Roads WA standards.
Does your gauge have any of these problems? We can fix them and more...
Battery charging and replacement
Fix broken screens
Replace gauge base gasket
Replace Scalar panel gaskets
Fix a gauge that keeps turning off
Solve high moisture counts
Fix keypads not working
Replace top shell and screws
Do you have an old gauge that you need to dispose of? Buy a new Troxler gauge and we will dispose of your old gauge for you.
ISO/IEC 17025 is used by Complete Calibration Pty Ltd to develop and maintain confidence in the quality and management system and to confirm to our clients, our commitment to maintaining this quality.
Calibrate • Repair • Service • Spare Parts • Sales